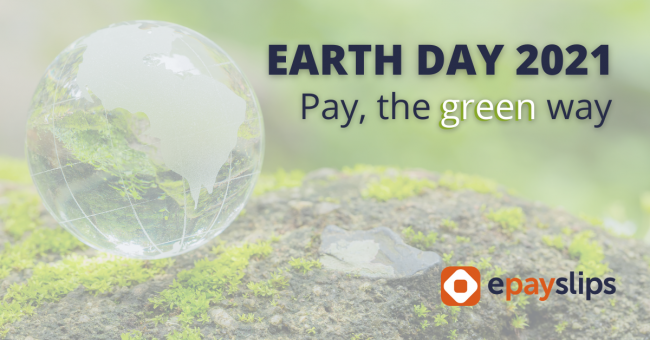 The theme for International Mother Earth Day 2021 is, 'Restore our Earth'. This theme covers natural processes, innovative thinking and emerging green technologies, which allow us to move towards a greener, more sustainable future. – something which ePayslips are proud to be a part of.
As part of the Dataplan Group, our Carbon Footprint in payroll outsourcing may not be as large as those in other industries. This aside, it is still our responsibility to ensure that the way we act and operate our business is sustainable, and therefore ensure we are taking all the necessary steps to cut down on any unnecessary impact on the planet.
Our CEO, Richard Rowell, previously explained: 

"Climate change is the single biggest threat to our future and the generations to follow. We must make changes, and we must make them now. And it's not just up to individuals to make a difference. Businesses must be responsible too. Every business needs to commit to reducing its carbon footprint and, if possible, reverse the impact it has made."
ePayslips is a fantastic tool for both our clients and Dataplan as a group. The way ePayslips operates allows our entire Group to eliminate almost all the greenhouse gases we emit via the redundancy of paper payslips, and in turn, the logistics of distributing. This is a crucial part of Dataplan Group's Carbon Pledge.
At Dataplan Group, we aim to confirm our carbon neutrality later this year and become 'Carbon Positive' by the end of 2022. 
We aim to meet this goal by:
Switching to Carbon Zero paper sources
Encouraging existing clients still using paper payslips to move to ePayslips
Reducing the amount of business travel through the use of technologies such as video conferencing and incentivising sustainable travel
Switching to Carbon Zero energy suppliers and investing in renewable energy
Minimising single-use products and maximising recycling
Planting trees to offset the remaining carbon
To date, across the board, encompassing Dataplan clients, ePayslip only clients, and bureau clients, we now have an incredible 604,160 employees receiving an online payslip as opposed to a paper payslip each pay period. In March alone, Dataplan Payroll processed payroll for approximately 155,000 employees. Thanks to recent developments, as of 2021, 130,000 of these will be receiving an electronic P60 document – which leaves only 25,000 paper P60s distributed by Dataplan Payroll. In addition to this, we are also now offering electronic P45s for leavers.
Switching over to ePayslips demonstrates that you, like us, are conscious of the environment and the unnecessary damage caused daily. This also shows that you are ready to move forward and utilise innovative, emerging green technologies that will move us forward into a more sustainable future.