Employee experience
Providing powerful pay and employment information directly to your employees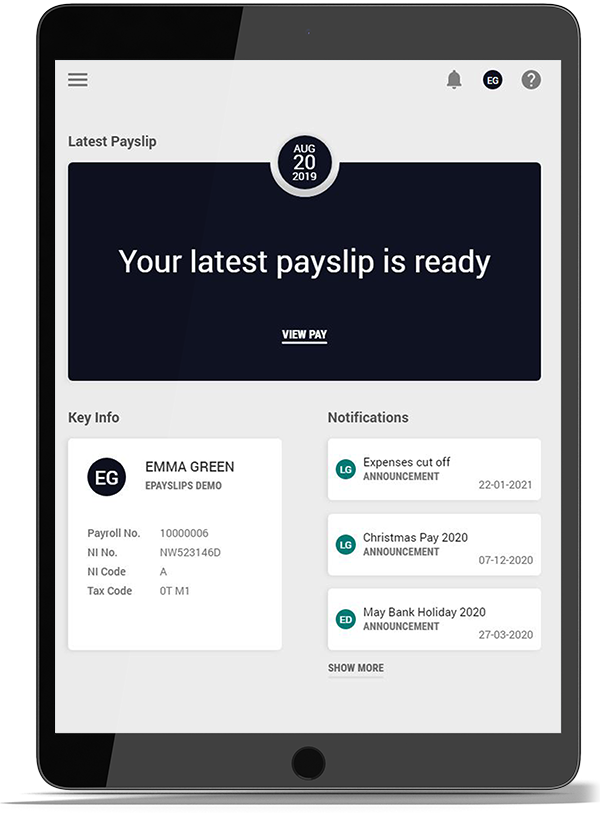 Helping your employees become pay savvy
Paper payslips have had their day. For employees, they are usually a document, that is stuck in a drawer or filing cabinet and are often lost when you need them most!
With ePayslips, your employees will have all their pay information (Payslips, P60s and P11Ds) in one place that is accessible 24/7 from any internet-connected device.
It doesn't stop with just pay information. You can also use the ePayslips platform to send employee messages, company announcements and even documents. ePayslips becomes a digital filing cabinet, that contains the latest versions of important documents, and used to distribute individual correspondence such as pension communication or furlough letters.
Easy sign-up
Signing up to most online systems is straightforward and ours is no different. What is different is that we already hold personal details about the employee signing up.
Security is paramount and we need to ensure that employee sign-ups can't be spoofed or socially engineered.
We have established a simple, but secure sign-up process that we take employees through when they first need to set up their ePayslips account. This also includes setting up security questions personal to them for easy account retrieval. Our systems empower users to manage their forgotten details using the secure information they provide at sign-up. This and avoids you becoming overwhelmed with requests to rests passwords and user account details!
Employee Self-service
If you have enabled this functionality, employees can also manage some of their personal information, again reducing the number of employee requests you receive.
This avoids employers becoming overwhelmed with requests to reset user account details.
We have flexibility regarding leaver options allowing accounts to remain open for a period while limiting access to any other employer information.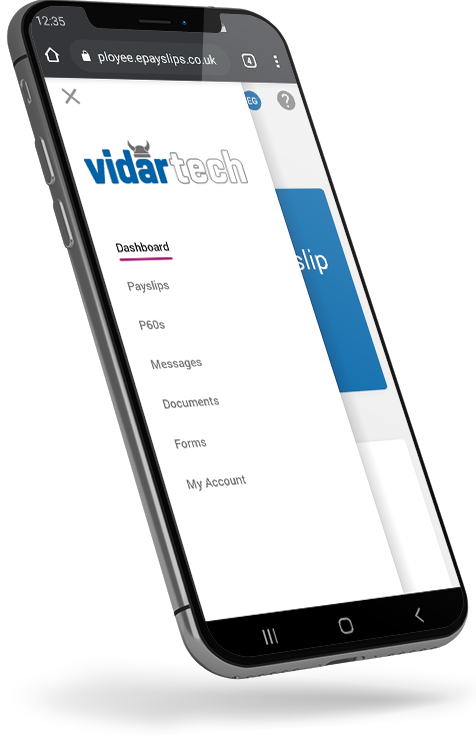 User-friendly web and mobile apps
Employees access ePayslips either through our web app or mobile apps. Our apps are designed to be intuitive and user friendly. There is no training required and employees can easily navigate and find the information they need.
We recommend clients take on our custom branding option, this gives the employee reassurance that this is from their employer rather than a third-party solution. When they log in, they will see their company logo and colour scheme making the experience seamless.
Supporting your employee engagement
If you want to maximise the results from rolling-out or changing your ePayslip solution effective communications are the key. Our in-house design and communications team are on hand to help.
Whether you need help deciding on the messaging you want to deliver, a poster campaign, or a bespoke ePayslips booklet, our team have done it before and are on hand to help.