ePayslips features and benefits
Let's talk about what makes ePayslips stand out from the crowd
Everything you need from a digital employee portal
ePayslips is a secure and cost-effective electronic payslip solution. That's a given.
What makes the platform out of the ordinary, however, are the possibilities it provides for employee communications and engagement. We have looked at what other functionality could benefit users of the ePayslips portal and developed a range of options that can replace existing systems such as intranets.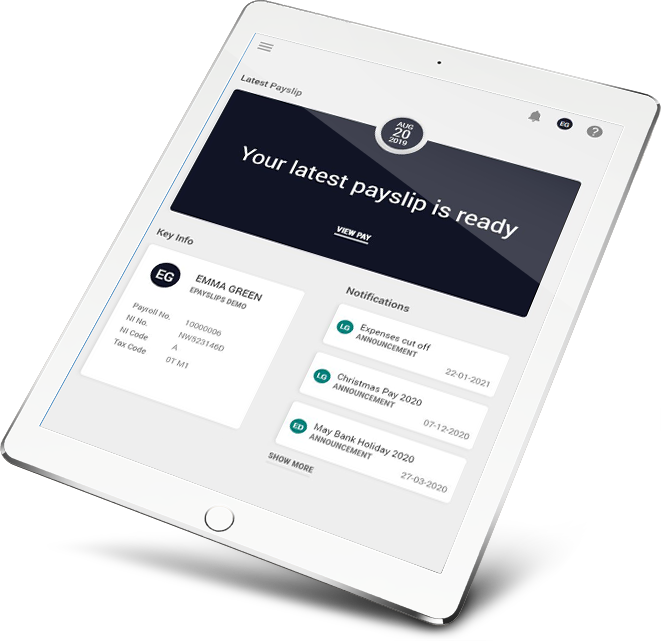 Flexible options
Our modular approach means that you can tailor your ePayslips solution to suit your exact requirements. No buying functionality you don't use. We will work with you to define what would be most effective for your organisation and configure the solution for maximum effectiveness.
Choice of features
Custom Branding
Multi-channel options
Security
Electronic payslips sent over email are not secure. Paper payslips are not always secure. Our ePayslips solution has been developed to the highest digital security standards so you can have peace of mind that your employees personal and sensitive data is protected, as is any other information you use to communicate to your employees.
Your employee data protected with multi factor authentication (MFA)
GDPR compliant
Developed to IS027001 accredited standards
All data processed and stored in the UK
Software agnostic
ePayslips does not require expensive licenses or for you to download software. Our solution works with any payroll or HR software, making it simple and easy to set up.
This means you can keep control of your payroll processing but still offer your employees the benefits of a cutting edge online payslip solution, without capital expenditure or resource-heavy integration.
Works alongside any payroll/HR software or provider
No license fees or software to download
Easy implementation
Employee experience
Without a great user experience, an ePayslip solution risks becoming another payroll headache! Our solution is designed to be simple, clear and intuitive. No training is needed as the employee apps work across desktop and mobile.
ePayslips is also digitally inclusive and has been designed to public sector accessibility standards, ensuring that all employees can benefit from ePayslips.
Accessible apps available 24/7 – all pay information in one place
User intuitive design that can be branded so it looks like a company portal
Fully accessible to WCAG 2.0 AA standards
Employee messaging options for secure employee communication
Employee self-service options allow employees to update their personal information themselves
Company documents option places the most up to date important company information in the hands of all employees
Employer experience
As an employer, having ePayslips provides you with a powerful tool to keep in contact with your employees and ensure they have the latest pay, HR and company information at their fingertips.
ePayslips is easy to set up and works with your existing systems. It is designed to make your life simpler and give you more options to engage with your employees.
Cut down on employee queries such as copy payslips
Saves on costs of printed payslips, postage and distribution time
Easy system integration
User-friendly interface for uploading pay data