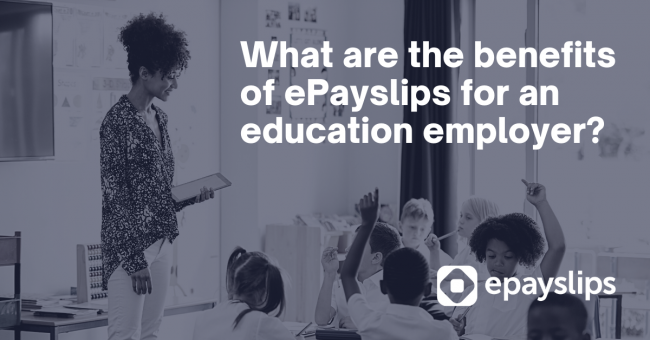 ePayslips can help solve problems and increase efficiencies for all kinds of organisations. In particular, one sector that could see a big benefit when switching from paper to digital payslips is the education sector.
Every industry has its challenges to address. In the world of education, many of these can be overcome with the mighty online payslip. Here are just a few benefits of implementing ePayslips within your education organisation.
Fast and fuss-free distribution
For organisations that span multiple locations, such as Multi-Academy Trusts, distributing paper payslips can become a big task. Not only does it pose questions about the security and environmental impact of the mode of transport, but it can also become time-consuming.
With ePayslips, payslips can be issued with immediate effect directly to the individual employees. This cuts out the questions regarding transport and saves a lot of time, and thanks to multifactor authentication, you can be sure that only the intended recipient can log in and access their payslip.
Another benefit is that all of the employee's payslips can be accessed online anywhere, anytime. 
Cutting unnecessary costs
By removing the need to print and post payslips, significant cost savings can be made. When you factor in the fact that our ePayslips COMMUNICATE module can be used as a secure means of one to one communication or organisation/department-wide announcements and for issuing other documents such as salary statements or P45s, the savings soon add up.
Part of your sustainability strategy
Environmental ignorance is fast becoming a thing of the past. While there is still a way to go, organisations have mounting pressure to operate in an environmentally responsible manner. This applies to the education sector too.
ePayslips can form a part of your environmentally friendly strategy with a reduced carbon footprint. A lot of carbon is cut out of the process by removing the need to print and post the payslips, and the carbon footprint of digitally accessing payslips is vastly reduced.
Safe and secure
Arguably one of the most significant issues with paper payslips is the difficulty of keeping them safe and secure. As we mentioned in our first point, distributing ePayslips is more secure. However, the risks of posting paper payslips are many – they could become lost in the post, turn up at the wrong address if employee details are not kept up to date, or even be opened by someone up to no good. Even delivering them via internal pigeon holes poses threats.
For an employee to access their ePayslips, they must have set up an account. As part of your onboarding process, we will agree on the best way to do this. For example, some employers choose to issue their employees with a link via email, others with a unique code or text message. Employees then go through a 5 step identification and verification process to ensure that the correct person is accessing the account.
Once their account is registered, they will need to log on to view their payslips every time. This can be done via our web or mobile apps, and for compatible mobile devices, the employee will have the choice of setting up biometric login.
For an additional layer of security, we also offer Multi-Factor Authentication (MFA). This can be left up to the individual employee to set up or set as a mandatory requirement across the organisation.
One place for all documents
As we mentioned, when reducing costs, ePayslips can be used as a 'one-stop-shop' for all documents. As an organisation, you can use our COMPLY module to distribute any number of documents to individual employees on a departmental basis or an organisation-wide level.
Clients have used this feature for salary statements, P45s, contracts, internal recruitment ads, and during the COVID-19 lockdowns, it was used heavily to issue the latest organisational guidance and policies.
Managing contracts
For schools that also use our managed payroll service, the benefits are even greater with the option to integrate with Dataplan Education's VERA document management module.
The VERA document management module allows the school or MAT to issue contracts directly to the employee through their ePayslips portal. This allows the employee to sign the contract and return it to the employer, with a copy saved in their documents store.
As you can see, there are many benefits of taking ePayslips up as an education sector employer. To find out more about ePayslips, or to see ePaylips in action with a demo, please contact us.