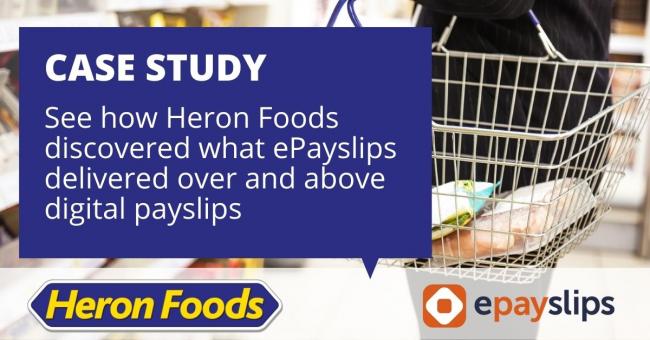 Heron joined ePayslips as a client in 2018 as part of a broader project to transform their internal processes and introduce efficiencies. As a result, they regularly use almost all of the ePayslips platform's features.
Heron Foods joined ePayslips as a client in 2018 as part of a broader project to transform their internal processes and introduce efficiencies. As a result, they regularly use almost all of the features of the ePayslips platform.
Background
Heron processes their payroll in-house, including around 5,000 employees with two weekly and two monthly payrolls. In April 2018, Helene Dixon joined the business, and her first task was to transfer from paper to ePayslips.
Helene learned that the high turnover payroll and associated documents were all printed in-house, with payslips distributed via internal post. This meant that every Wednesday afternoon, payslips and P45s would be printed which would take around 4 - 5 hours. They then went into 300 pigeon holes to be distributed to 300 stores. Moving to Heron was Helene's first experience of weekly payroll, and having previously used electronic payslips in previous roles, she felt this was the best direction to go, as did the business.
Using Mitrefinch Flexipay for their payroll software, Heron went to tender with Mitrefinch, and ePayslips won the bid. By switching to ePayslips, they knew there would be significant cost savings, which was part of the reason for choosing ePayslips, furthermore, they quickly saw efficiency improvements and added value too.
Helene explained, "it took at least two members of the payroll team a full afternoon a week [to print the payslips]". The switch also provided cost savings because "we no longer needed the hardware to print or to buy the paper, which is much better for the environment of course."
The benefits to switching soon began to add up, and Heron saw not only cost and time savings but all the additional features they could access through ePayslips.
A seamless transition
The transition from paper to online payslips was carried out by phased rollout. As Heron had multiple weekly payrolls with over 300 stores, the phased approach allowed them to manage the flow of staff queries. Helene commented, "the actual transition was so slick. It still surprises me to this day how little involvement we had to have in that your team does everything."
All the Heron Payroll Team have to do is send the exported payslip data to us via our secure admin portal. In return, ePayslips are distributed to their employees via the ePayslips web and mobile apps at a specified date/time.
The phased rollout also allowed Heron to manage their employee's expectations and assist those who were perhaps not quite as familiar with the technology. Whilst we could move all 5,000 over in one go, this would have created problems for their team. Helene added, "the only problems we encountered were user errors and user lack of knowledge on technology."
Three years without a hiccup
As Helene said, Heron has now been an ePayslips client for "three years without a hiccup." They have significantly cut down on the cost and time of paper payslips and their environmental impact. They are also now fully secure, without the risks of interception like a paper payslip. Herons transition to ePayslips was timed perfectly with the inception of GDPR, so security had been another big motivator for the move.
Helene explained that the payslips previously went out on a lorry to the shop, where they could sit in the office whilst part-time colleagues were not working. Now "with ePayslips, we are confident that only the colleague who's payslip logs on can see their payslip; there is no way those payslips can be intercepted."
Making the most of the features 
Heron has harnessed the power of ePayslips and made use of many of the features available. Firstly, there is the historical payslip viewing, which is very helpful for employees who need to produce copy payslips for things like mortgage applications and benefits claims. Previously this has been a big task for their payroll team, so giving the employees access to view and print previous payslips themselves has been a big help.
Helene also noted the usefulness of the COMMUNICATE module, which Heron regularly uses. With the sheer volume of employees, they get many contacts, which can now be distributed through the app to keep a trail and improve security. In addition, they use ePayslips for employees to send information to the HR and Payroll Team, such as sick notes and P45s, ensuring that they are kept secure.
Helene added that they "use the company documents every single week", and have even found that it provides an innovative way to advertise vacancies internally which are posted every Tuesday and Friday. In addition, on an individual employee level, they use COMMUNICATE to send documents such as pay rise or bonus letters.
Throughout COVID-19, they have found it particularly useful for communicating announcements such as Health and Safety procedures.