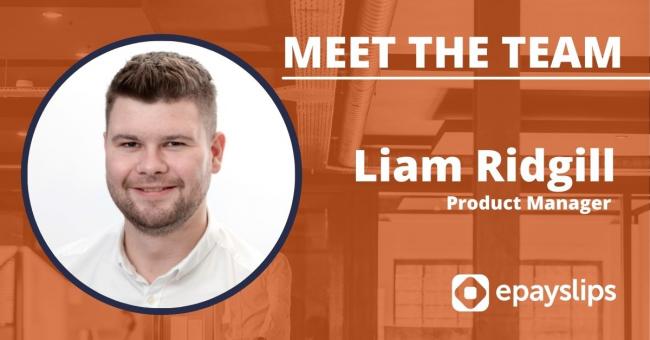 At ePayslips, we pride ourselves on delivering innovative solutions that are so much more than just a simple payslip. Our team of experts work hard in the background to keep our solutions and our apps at the cutting edge of tech and support our clients day to day with their ePayslips management.
To highlight the fantastic work that our team do and the value they bring to our clients, we have decided to introduce some of our ePayslips team. And, what better way to start than with ePayslips Product Manager; Liam Ridgill.
Liam leads the way on ePayslips development, and supports our clients from their initial quote and set-up, through to the ongoing management of their service.
A passion for business and ICT
Even before his working life began as an apprentice at the age of 18, Liam had a passion for business, IT, and tech through his teenage years. His hobbies to this day still include website development, social media and content marketing, which he first picked up in Sixth form in his client engagement modules. In addition, Liam has always had an eye for client communications and design work.
Organisational project management
Before coming to the Dataplan Group, Liam's background was in organisational project management. He previously worked as an Operations Coordinator for a company that specialised in IT infrastructure and Accounts Software. Working with the company for five years, having started as a Software Support Apprentice, Liam has always worked closely with clients to support their needs.
Liam explained his progression, saying, "from that support role, I then started to look after accounts software implementation. After about six months, I then took on the IT infrastructure side as well, managing both project types for IT and accounting software."
After working with Project Managers and IT Engineers to manage both project types, Liam began to oversee the Procurement Team. This role meant that any orders through the business passed through Liam's desk. He fully coordinated them from the point of signature through to go-live.
A change of career path
Finally, a change of career path brought Liam to Dataplan in 2017. Liam began working in our Innovation Team. This team was formed to look at ways to improve efficiencies in the payroll side of the business, working closely with the Software Development Team on existing products which included ePayslips.
Soon after, Liam took on the task of converting Dataplan clients from paper to ePayslips as part of our environmental strategy. He worked alongside the Projects Team, which handled the ePayslips implementation process. It quickly became apparent that this would need a dedicated full-time role, which is when Liam stepped into his role as ePayslips Product Manager.
Today, in addition to providing quotes, demos, client onboarding, support, and account management, Liam is responsible for developing the existing ePayslips platform and mobile app to look for improvements in terms of functionality and additional features and services.
Liam explained, "I'm starting to look at road mapping. With that, it is also a lot of client work, so speaking to clients and finding out their requirements and what information they want to see in the portal."
Career highlight projects
Liam has worked on many exciting and innovative projects in his time at Dataplan Group and ePayslips, but he describes the new ePayslips web portal as a career highlight.
ePayslips was formed back in 2008. Whilst the system had been subject to several design upgrades and changes to meet some clients' requirements, it had never been under a significant overhaul of the design and usability. Therefore we started that process in 2019 redeveloping and redesigning ePayslips from scratch, taking everything back to the bare minimum and looking at the requirements of clients and end-users, what information that they want to see when they log in and what does the look and feel need to be.
We just launched that last year in 2020, and then we have completely rebuilt the mobile app off the back of that. We were the first payroll provider in the UK to offer a mobile app, launched in 2012. Again whilst that has gone through 3 or 4 iterations, there was never one that really took it back to the basics and started again up until the back end of 2020 when we went through that process and started a brand new build.
We started from scratch with a new design, new look and feel, which was designed to help the employee get to the information they need a lot quicker and see what their pay breakdown is more efficiently.
Liam's favourite ePayslips features
Looking at the features of our ePayslips service, Liam highlighted our document generator as his favourite. He said it was the "most underused feature but the one with the most clout."
Describing document generator, Liam explained, "it mimics mail merge functionality in Microsoft office. This allows users to distribute one standard template communication, such as a salary change letter, on mass to a group of employees."
Rather than creating a letter and uploading it to individual employee records manually, the Document Generator needs one letter template and a CSV file containing the variable information and the employee identifiers. Then the system does the rest for you.
It will read in the CSV, decide who needs the document, create the document with the correct variable information, and send it to employees.
Talking about the benefits of this feature, Liam said, "It does save hours both from a letter generation perspective and also from a distribution perspective. I think that is undervalued; that is something that we are working on to bring features like that which clients have historically not known how to engage with to the forefront. It's not just an ePayslips platform providing a pretty pdf payslip; it is an employer management tool that can be used to communicate and interact with employees."