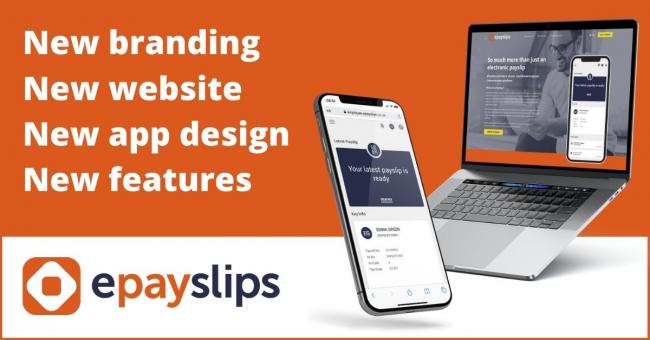 'The next generation of ePayslips' - a strapline which has a new meaning.

Over the last 12 months, our team has been busy developing our ePayslips offer.  
New branding
Our ePayslips brand has been around for over 10 years. In fact, we were the first ePayslips app on the market. But 10 years is a long time in today's fast-paced world, so we wanted a new brand that was more contemporary, digital-friendly and in tune with our ever-growing client base.
Our new identity, designed by our in-house marketing team, features a new logo, new brand identity, and new website.
New employee interfaces
The new branding is great. We also wanted to look at the way our product was presented to the people using it.
Our dedicated Software Development Team has also been working on a new employee web app and a replacement mobile app. Both of which have been designed and built with accessibility and user experience at their core. We feel these features are vital to our success across the breadth of the sectors we work in.
Both systems will allow employees to view a digital breakdown of their payslips; whilst still being able to view a traditional PDF view, should they wish - not excluding users from seeing the information they genuinely care about.
New options
Our ePayslips solution has always packed in lots of features, but we acknowledged that there shouldn't be a one-size-fits-all approach.  To help our clients tailor ePayslips to match their specific requirements, we have curated the many features into 4-modules – COMPLY, COMMUNICATE, ENGAGE and INTEGRATE.
With our new apps, we can explore a magnitude of features specifically for the Human Capital Management (HCM) sectors. Our flexible, INTEGRATE, and ENGAGE modules gives us more touchpoints to interact with both employers and employees, whilst our popular COMMUNICATE module allows for both broadcast and 1-2-1 secure communication with employees.
What's staying the same?
Our team's flexible approach and effortless pursuit of customer satisfaction - this is what we strive for. 
What's next?
Over the coming weeks, our existing clients will move onto our new apps. After that, watch this space.
Richard Rowell, ePayslips CEO sums up, 
"We first started delivering ePayslips back in 2010 and have supported hundreds of businesses and hundreds of thousands of employees ever since. Our latest refresh brings everything up to date and celebrates the introduction of a range of new functionality and services. 
At the heart of what we do today, and in the future, very much remains the mission of delivering a high quality, secure platform that supports employers of all sizes to take advantage of cost-effective technology that brings compliance across payroll and pensions.
Our ongoing investment and evolving technology allow us to expand our ePayslips platform providing enriched employee experience and adding real value to businesses through a range of services to engage with your people and integrate with your business operations."
If you would like to see a demo of the new ePayslips or discuss your requirements, please contact us.